Legendary dog: Gaspar Koncept
Gaspar Koncept
 Author Olga Forlicz
Breed: sealyham terrier
Born: 11.06.1993
Sire: Interchampion Trotabout Twinkle Tiny Tim
Dam: World Winner '90, Interchampion Alabama Koncept
Breeder & Owner: Hanna Bakuniak
Titles: World Winner '95 & '96, Junior World Winner '94, Interchampion, Champion of Poland
Before the idea behind this publication became a reality, I was already decided that the first article from the series Pies-Legenda (Legendary Dogs) would be dedicated to a particular VID (Very Important Dog). A dog that not only influenced the development of his breed in Poland and in the world, but one who also (completely unexpectedly) changed an important part of my young life. The most amusing part of this whole history is the fact that I never got to know him personally.
During his lifetime quite famous, he is still remembered with great sentiment by Sealyham breeders, experts and lovers of terriers in general. He has been described as one of the most excellent representatives of his breed. Engaging, captivating, good looking…he made such an impression on me, that after waiting a year, all my questions as to which breed I would choose were put to rest and in 2000, his grand-daughter came to live with me.
I don't even remember where or when, but when I saw Gaspar's picture – snowy white, ideally trimmed, standing proudly on the World Winner podium – my heart skipped a beat. I quickly managed to locate his owner, HankaBakuniak (now a close friend, then a "guru" and expert breeder of Sealyham terriers), and in the hope of getting one of Gaspar's puppies, I quickly got in touch with her. I wasn't expecting the answer I received, which went something like: "I no longer breed Sealyhams, but I can recommend a high quality Scotch (terrier)." I was shocked. No more Sealyhams? How can that be? Why? I don't want a Scotch! Only a Sealyham will do! At the time, especially irritated by the whole situation, I couldn't understand why someone would disrupt such an imposing series of victories and fame. Now, I understand it a little better.
In April 1993, Hanka went to Denmark, to the still famous and still operational «Whitepepper's» kennel run by Erika Hansen, to see the bitch Alabama Koncept (among others, World Winner) mate with the Dutch dog Trotabout Twinkle Tiny Tim (the top dog of the English Lines – Churclo, Topstage, Polrose). Hanka was incredibly disappointed when she didn't see the expected traits in the famous stud dog. Doubts and questions went spinning round her head – to mate or not to mate? After a while she came to a decision – let's give it a go. Tim's bloodline was just as distinguished as Alabama's and Hanka had just completed a one thousand kilometer journey – twenty years ago this wasn't very common…especially when it came to breeding. Thus, many arguments seemed to speak "for" going ahead with the earlier decided upon plan. The mating went ahead, but Hanka still wasn't sure – was it a good call?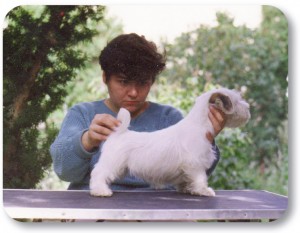 On 11 June 1993, the fruits of that relationship came into the world – one boy and three girls. Hanka's breeding plans meant she wanted to have one of the bitches. One day she came to have a look at the litter of new "whites" at the kennel of Magdalena ?wi?to?'s (judge and head of one of the leading kennes of fox, cairn and Norwich terriers under the name " zPsiejParafii"). After just a few moments Magda smiled at Hanka, pointed with her finger to one of the little ones and decidedly ""told" her that he was the one for the kennel. Unfortunately, this wasn't the long awaited bitch that Hanka was expecting, but she decided to go with her friend's experience and advice. And so, the bitches went into the great wide world, including the one Hanka had earlier chosen for herself. Genua, affectionately called Buba, went to Erika's kennel in Denmark and began a successful show career – her highest achievements include a Junior World Winner title (Bern '94) and two World Winner titles (Brussels '95 and Helsinki '98). Unfortunately, after two miscarriages, she had to be sterilized for health reasons and never gave birth to a litter.
Gaspar went to live with Hanka – compact, an ideal top line, excellent withers, wide, with a deep chest, beautifully sculpted fore-breast and an excellent, desired, wide rump. Despite his muscular build, he moved not just dynamically, but elegantly, showing everyone who the star was. Gaspar's straight short-haired coat completed the whole effect (for every show Hanks had to reserve twelve hours in order to get it ready!). The dog never got to know electric clippers, as each square centimeter of his coat was ideally trimmed and "sculpted" to perfection.
Gaspar was ahead of his time and set down new standards and trends in the breeding of Sealyham terriers. At one of Gaspar's first shows, Peter Green (one of the most prominent breeders, handlers and judges in the world, a terrier specialist) spotted him whilst observing the ring. He offered to buy the young Gaspar outright, promising that in his hands the dog would reach for the highest laurels in the United States. Hanka firmly turned down the offer, but it served to confirm her hopes and expectations for Gaspar.
From the very beginning of his career, he was met with admiration everywhere he went. At the age of barely nine months, he won the Junior World Winner '94 title. He went on to repeat this feat (now in the senior category) twice more in Brussels '95 and Vienna '96. He was nbeaten in big stakes, as at the end of the late 90s in Poland, at each show there would be more than a dozen Sealyhams. In 1995, he completed his Inter-Championship with 10 CACIBs from four different countries and won the Terrier Show in Poland. At the age of ten months, he won Best of Breed out of nearly 40 Sealyhams at the Terrier Club Show in Kassel, organized for the 100th anniversary of the Kft (Klub fur Terrier). These are the most important achievements of the little white terrier. He went like a storm! Unrivalled in his breed, he proudly presented the "Koncept" kennel type, distinguished by their beautifully "carved" heads with warm eyes, a compact build and excellent angles. This type is to this day very noticeable in lines where Hanka's dogs occupy a significant place.
Gaspar was only used for breeding purposes for about a year – mostly in Poland – but his offspring went to live all over Europe and the United States, spreading the name of their father and later, grandfather. None of Gaspar's offspring who tried for it were ever denied the title of Champion, but there were also more prestigious titles like BOFFIN ArsAmandi(son) – European Winner, PAGO PAGO Koncept (grandson) – two-time World Winner or FALCORA JUNIOR Koncept (grandson) – Junior World Winner and European Winner. Gaspar's beautiful son – KENT Koncept, living in the US, greatly influenced the development of Sealyhams in the "NewWorld" and he found himself in the lineage of such important kennel as the Canadian "Efbe's kennel or American "Good Spice" and "Thunder Rd." kennels.
The Inter-Champion MINESSOTA Koncept, Gaspar's daughter, went to live in Italy and there gave birth to Tequila Bum Bum – European Winner and Junior World Winner. Gaspar's great-grandson, Penllyn Pimpernel, was born in the USA from a Polish mother (Nota z Werw?) and then went on to spend most of his life in England (currently New Zealand) where he was the top Sealyham in Britain from 2005-08, twice winning Crufts.
 We could go on like this for days; however the titles and class of Gaspar's offspring speak for themselves.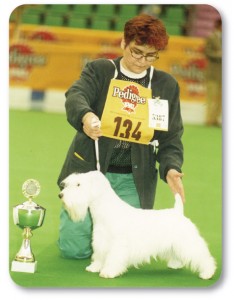 At the age of four, illness caused Gaspar to become impotent. Hanka broke down completely – the many years of breeding work had fallen to pieces in one swift stroke and the "best of the best" could no longer add to the development of the kennel. The breeding work no longer made any sense. Gasper's owner made the only correct decision she could think of at the time – no more Sealyhams. In one fatal moment the world of white terriers had lost Hanka the "Guru" and King Gaspar. With time, white terriers completely disappeared from her home, giving way to Scottish terriers, which to this day reign supreme at the "Koncept" kennel. Hanka was never able to be convinced to return Sealyhams to her home and this is probably a closed book…although on the walls of the rooms in her home there still hang many "white" memories, here and there lie many figurines scattered about, while the hundreds of photographs remind one of the former glory of "Koncept" Sealyhams.
Every year there is a Sealyham specialty show in Europe. It takes place in a Scandinavian country amidst a very "international crowd" of breeders and breed lovers along with nearly forty Sealyhams. During a special dinner, we enjoy ourselves, happy at the chance of another reunion, but we also reminisce about the top representatives of our favorite breed, that are no longer with us, but who should be always remembered. I believe that you too, will join in and enjoy ourreminiscences and get to know the people and dogs who have contributed and helped shape Polish cynology…who knows? Maybe one of our legends will influence your life, like it has mine!
 Статья опубликована с согласия автора