Vest
My favorite vest pattern.
It`s especially indispensable for pregnant and lactating below a belly`ll be protected.
It` easy to use and, for me , especially important for morning walks, suit up REALLY quickly.
The zipper in back. On the distortion of the drawn squares on the pattern do not pay attention, tired to aim.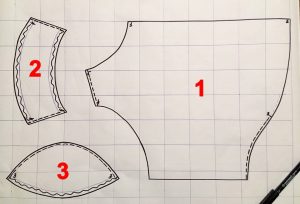 1 – the main part , one part with the bend.
Between (1) and (2) to sew the zipper.
Below are the details of the short horizontal line is the fold.
2 – the breast, one piece without bending.
Point (4) and (5) of this part connected with points (4) and (5) of the main part.
And the wavy line – elastic webbing. I use for shaping the edges of knitted bake. It stretches well and it is possible to do without elastic webbing.
3 – petal.
This part is connected at points (3) with the main item. It holds the belly .
And the wavy line -elastic webbing. This detail will be collected by elastic webbing tighter.